Minutes from Stratford-upon-Avon, this 16th Century Elizabethan Manor House Hotel is the perfect base to explore Shakespeare Country. Steeped in history, the property is referenced in the Domesday Book and features an 11th century church within its grounds. Local legend claims Shakespeare married in the church here, and that he wrote 'As You Like It' in the Library Room. Billesley Manor is perfect choice for immersing yourself in all things Shakespearean, or exploring the nearby Cotswolds.
Original Features marrying Contemporary designed rooms
Spa facilities with indoor pool
Listed Topiary Garden
Library used by William Shakespeare
10 minutes from Stratford-upon-Avon and on the northern tip of the Cotswolds
Information
SPA CLOSURE DUE TO REFURBISHMENT Date: 04 February 2019
The Spa will be closed for approximately 8 weeks from Monday 18th February 2019 (expected to re open week commencing 16th April)
For bookings during this period Passes to Bannatyne Wildmoor Spa (5 minute drive from the Hotel) will be offered complimentary
Special Offers
Show Prices Per Person | Per Room |
The following offers are showing instant availability.
Exclusive to OPL
Available: Now to 31 Oct 2020
Luxury Country Getaway - Superior Room
Stay in a Superior room and receive:
Table d'hote Dinner each evening (value £29pp)
 Full English breakfast daily
Complimentary bottle of House wine with dinner each evening*
*any House wine or £15 credit towards any other wine on the list. Credit cannot be pooled across multiple nights
Exclusive to OPL
Available: Now to 31 Oct 2020
Luxury Country Getaway - Feature Room
Stay in a Main House Feature room and receive:
Table d'hote Dinner each evening (value £29pp)
 Full English breakfast daily
Complimentary bottle of House wine with dinner each evening*
*any House wine or £15 credit towards any other wine on the list. Credit cannot be pooled across multiple nights
All of the above prices include all taxes / service fees.
* Offers showing provisional availability are subject to confirmation with the hotel and availability is not guaranteed. No funds will be taken from your card until the booking is confirmed, which will usually be within a few hours.
Offers showing instant availability are live and will be confirmed immediately.

Facilities at Billesley Manor Hotel
The hotel has an extensive leisure club which includes a heated indoor pool, sauna, steam room, gymnasium and don't forget the outdoor tennis court where you can pretend to be Andy Murray for the day. Most importantly make sure you relax with one of the many treatments on offer in the beauty therapy rooms the perfect way to enjoy your stay.
Billesley Manor showcases some stunning original 17th century features, including beautiful stone fireplaces (many of which are still in use),mullioned windows and oak panelling throughout the hotel
72 Bedrooms
Tennis
Health Spa
Indoor Pool
Four Poster Bed
Satellite TV in Rooms
Internet Connection in Rooms
Dogs by Prior Arrangement
Good to know
Hotel check-in time: 3:00 PM
Hotel check-out time: 11:00 AM
Parking Facilities
There is ample complimentary parking available
Disabled Access
Billesley Manor Hotel is a listed building and unfortunately the majority of rooms are accessible via steps only as there is no lift.
Child Policy
Accommodation for up to two children aged 16 or under is free when sharing with two adults in a standard guest bedroom; a single supplement applies when only one adult is in the room.
Upgrade charges apply for larger rooms
Additional rooms for children aged 6 to 16 will benefit from a 50% discount on the adult rate, excluding sales and pre-payable rates.
To accommodate a family in our guest bedrooms, in some cases a foldaway bed will be used. Should you require a cot, please ask at time of booking.

Meals
Children aged aged 5 and under eat free of charge with a paying adult.
Breakfast for children between the ages of 6- 12 is charged at £3.50
Children's menu available for children up to 12 years and charged as taken or they may order from the restaurant menu and benefit from a 50% discount. Children over 13 are classed as young adults and pay full rate for meals as taken. Family dining times may apply.
Please note that swim times for children are: Weekend 8am-10am and 3pm-5.30pm, Weekday 3pm-5.30pm.
Swim times are subject to change and may differ during school and public holidays.
Dogs Policy
Dogs are permitted in standard rooms in the Cedar Barn annexe only - please call to check availability. Dog charge £10 per dog per night
The grounds
Incorporated in the 11 acres of grounds is the 100 year old listed Topiary garden
The Rooms at Billesley Manor Hotel
Superior room
The contemporary Premium double rooms, located in the converted Cedar barns are of a modern & individual design, some retain the original Tudor barns
Main House Feature room
The rooms are located in the Manor House and are more spacious with views of the hotel's extensive grounds. Each room is of contemporary design and has bathrobes and slippers, mineral water, 24 hour room service, Trouser press , Hair dryer, TV, Free WiFi
Junior suite
Large Rooms with separate seating areas, located in the Manor house. The Junior suites have ensuite bathrooms, tv, tea and coffee making facilities. These rooms have robes and slippers, mineral water and the added extra touches you would expect.

The Stuart restaurant is an authentic Elizabethan dining room serving the finest local & seasonal ingredients.
---
Opening Times
Breakfast
07:00 - 09:30 Weekdays
08:00 - 10:00 Weekends
Lunch
12:00 - 10:00pm in the Bar
Dinner
6pm - 9:30pm


---
---
Health and Leisure Club with indoor pool, sauna, steam room, gym, tennis courts and beauty treatment rooms.
---
Billesley Manor Hotel Location
Map & Directions
Address
Alcester
Nr Stratford-upon-Avon
B49 6NF
There is ample complimentary parking available
---
How to get here
Leave the M40 at junction 15 and join the A46 towards Stratford-upon-Avon. Continue for approximately nine miles past Snitterfield and the turnings for Stratford-upon-Avon. The hotel can be found by turning right off the A46 to Billesley.
---
Enter your postcode to view approximate driving directions to Billesley Manor Hotel.
Location & Local Attractions
The 16th Century hotel is set in the pretty village of Billesley with amazing grounds which incorporates a 100 year old topiary garden and an 11th Century church on-site all of which is only 4 miles from the centre of Stratford

Why not visit the Royal Shakespeare company which is under 5 miles away and was built in 1932, the Royal Shakespeare Theatre is the RSC's main performance space in Stratford-upon-Avon. Follow the theme and visit Shakespeare's house and gardens; the Trust offers a unique experience in and around Stratford-upon-Avon and only 3.5 miles away

Enjoy the unique pleasure of watching hundreds of the world's most spectacular and colourful butterflies flying all around in a wonderful tropical environment a the Butterfly Farm which is 4.8miles from the hotel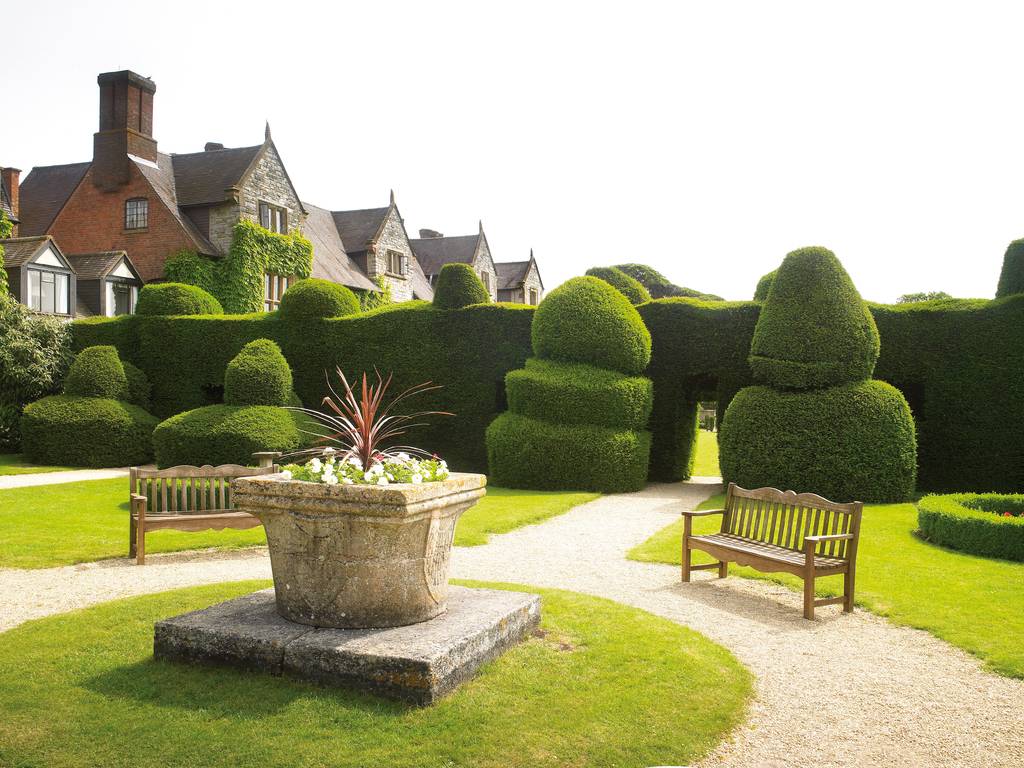 Billesley Manor Hotel Reviews
Alcester, Nr Stratford-upon-Avon, B49 6NF
Excellent service and quality of food in restaurant. Spa facilities are good but ladies changing room needs refurbishment.
Excellent location and provision for friends' get together.
Very relaxing break
Beautiful building and grounds with a quiet relaxing atmosphere. Staff were very helpful and friendly and ready to join in conversation with us. Enjoyed our stay immensely and would be happy to return in the future.
Lovely Tudor Manor House, great location near to Stratford, friendly staff and good food. What's not to like! Thoroughly enjoyed our stay there.
A really mixed review
My husband and I stayed here for 2 nights with our two children (9 and 5). There were elements of the stay that were wonderful and elements that really were poor.
For example, the restaurant staff on the first night and first breakfast were amazing, they couldn t have been more friendly, hard working, attentive and fantastic as a team. The staff on the second evening and breakfast were adequate at best.
The swimming pool was really nice but, due to the very restrictive times children are allowed to use it, we only managed to swim once in our 3 days there. When I mentioned this to the reception staff I was met with total indifference. I made the point that it was school holidays and that they offer family bedrooms and a great kids dining menu so they must want families to come, but the ladies couldn t have been more disinterested.
The room was nicely set out for the 4 of us with plenty of room (but we still needed to sit in the bathroom while the kids fell asleep!) and our toiletries were not replenished after our first night so all 4 of us had just one small bottle of shampoo to use for both nights! Also there were no gowns in the room, something I have come to expect from a hotel like this.
So it really is a mixed review! They are definitely getting a number of things really right (children s menu, dinner deal in the restaurant and being able to upgrade to anything you want, towels given for swimming, room set up), but then failing on others (arriving at 2:55pm and being told the rooms are not available until 3pm, but actually being able to use the swimming pool very much, the changing rooms, the reception staff attitude).
Relaxing stay
The staff were excellent. Lovely evening meal. Bar staff were exceptional.
Just one thing I would like to say is the radiator was far too hot in our room and could not adjust them.
Beautiful setting,excellent restaurant
Billesley Manor is set in such a beautiful location. We had a very relaxing and enjoyable 3 night break there in the October half term. The staff were very polite and accommodating-nothing was too much trouble. In the evenings the restaurant provides really lovely food - I thoroughly recommend the Bass Fillets with the squid ink risotto, it was some of the best cooked fish I've tasted. I look forward to returning to see what you have done when your renovation programme is complete. Thank-you for giving us such an enjoyable stay.