Ston Easton Park is a Grade 1 listed building dating from 1740, set within a classical landscape created by 18th century landscapist, Humphry Repton. This 4 star deluxe hotel is just a 20 minute drive from the historic city of Bath and is steeped in grandeur and opulence.
Set in the Somerset countryside, just 11 miles from Bath
Stunning luxury bedrooms, particularly the state rooms, some featuring Chippendale furniture.
Opulent lounges with high ornate ceilings and open fires.
Fine dining restaurant
36 acres of manicured parkland
Special Offers
Show Prices Per Person | Per Room |
The following offers are showing provisional availability* and instant availability.
All of the above prices include all taxes / service fees.
* Offers showing provisional availability are subject to confirmation with the hotel and availability is not guaranteed. No funds will be taken from your card until the booking is confirmed, which will usually be within a few hours.
Offers showing instant availability are live and will be confirmed immediately.

Facilities at Ston Easton Park
Ston Easton Park is a Grade 1 listed building of 1740, set within classical landscape created by the 18th century landscapist, Humphry Repton.

Ston Easton Park evokes memories of a more leisurely age, offering the elegance, service and welcome you would associate with a magnificent private country house. This inviting house offers exquisite furnishings and paintings, excellent dining rooms and fine spacious bedrooms, all lavishly furnished with fine fabrics and antiques.


The hotel is situated 11 miles south of Bristol and Bath.
22 Bedrooms
Riding
Fishing
Four Poster Bed
Golf Course Nearby
CD Player in Rooms
Internet Connection in Rooms
Dogs by Prior Arrangement
2 AA Rosette Dining
Home truths
Ston Easton has a resident Cocker Spaniel (Oscar) who is ever-present around reception and some of the ground floor rooms. We think he's lovely, but if you have a problem with dogs this hotel might not be for you.
Like many listed buildings, there is no lift to the upper floors. If you have any difficulty with stairs please get in touch with our reservations team prior to booking.
Good to know
Hotel check-in time: 3:00 PM
Hotel check-out time: 11:00 AM
Parking Facilities
The hotel has ample onsite parking.
Disabled Access
There is no lift at the hotel or wheelchair access. Please get in touch with our reservations team prior to booking.
Child Policy
Children are welcome at Ston Easton Park. We recommend that you book a Deluxe Bedroom or a State Bedroom to accommodate extra beds or cots. Please note that children under the age of eight are not allowed to dine in the Restaurant, we are happy to provide high tea or room service. We also offer a listening in service free of charge.
Dogs Policy
We are pleased to accept dogs overnight at the additional cost of £20 per dog per night. Guests are asked not to leave them unattended in their bedroom. Well behaved dogs are permitted in our lounges on their leads.
The Rooms at Ston Easton Park
Classic
The five Classic bedrooms are all beautifully decorated rooms with comfortable seating areas in the room. All Classic bedrooms have kingsize or twin beds overlooking either the old maids courtyard or the croquet lawn and village of Ston Easton.
Superior
The five Superior bedrooms are all wonderfully spacious rooms with a choice of either original four-poster or king-size beds. Each of the rooms has a comfortable seating area within the bedroom and views overlooking either the quaint old maids courtyard, or the croquet lawn and village of Ston Easton.
Deluxe
Deluxe Rooms The five Deluxe bedrooms are all extremely spacious rooms with king-size beds and sumptuous seating areas within the room. The Deluxe bedrooms all have spectacular views overlooking either the ancient parkland and the cascading River Norr or the immaculate croquet lawn and picturesque village of Ston Easton.
State
The four State rooms are the largest and most well-appointed rooms in the house, all located on the first floor. With magnificently ornate high ceilings, original four-poster Chippendale beds, wonderfully spacious seating areas within the rooms, the very finest antiques and the most opulent décor imaginable, the State rooms are nothing short of breath-taking. These rooms all have views overlooking either the ancient parkland and the cascading River Norr or the immaculate croquet lawn and village of Ston Easton.
Please note that the State Rooms have 4-poster beds and cannot twin.
The cuisine at Ston Easton Park is of award winning stature, available in both formal and relaxed settings.Head Chef, Daniel Moon, offers an excellent standard of modern British Cuisine, using fresh local ingredients mostly produced in our Victorian kitchen gardens. The Georgian restaurant, The Sorrell Restaurant, boasts a standard of service from a bygone era, creating the perfect ambience for fine dining. Ston Easton's cellars are famed for their rare wines and vintages, whilst for everyday enjoyment there is an extensive range of New World and table wines.
---
Opening Times
Breakfast
7.30am – 10am daily
Lunch
12am-2pm daily
Dinner
7pm-9pm daily

24 hour room service available

Afternoon Tea
3pm – 5pm daily
---
Dress Code
Our restaurant dress code is Smart/Casual.
---
---
Opening Times
Breakfast
7.30am – 10am daily
Lunch
12am-2pm daily
Dinner
7pm-9pm daily

24 hour room service available

Afternoon Tea
3pm – 5pm daily
---
Dress Code
Our restaurant dress code is Smart/Casual.
---
Ston Easton Park Location
Map & Directions
Address
Ston Easton
Nr Bath
Somerset
BA3 4DF
The hotel has ample onsite parking.
---
How to get here
By road
Ston Easton Park is located on the A37, 11 miles south of Bristol and Bath, and 120 miles from London.
By train
80 minutes from London Paddington to Bath Spa.
By air
12 miles from Bristol International Airport, 110 miles from London Heathrow and 135 miles from London Gatwick. 
---
Enter your postcode to view approximate driving directions to Ston Easton Park.
Location & Local Attractions
Ston Easton Park lies in some of the most beautiful countryside in England. Ancient monuments, glorious gardens and fascinating stately homes are all within easy reach. To the north are the Cotswolds and Bath with its Roman baths. To the south are Wells Cathedral with its moated Bishop's Palace, Glastonbury with its ruined Abbey and Stourhead, one of the finest landscaped gardens in the world.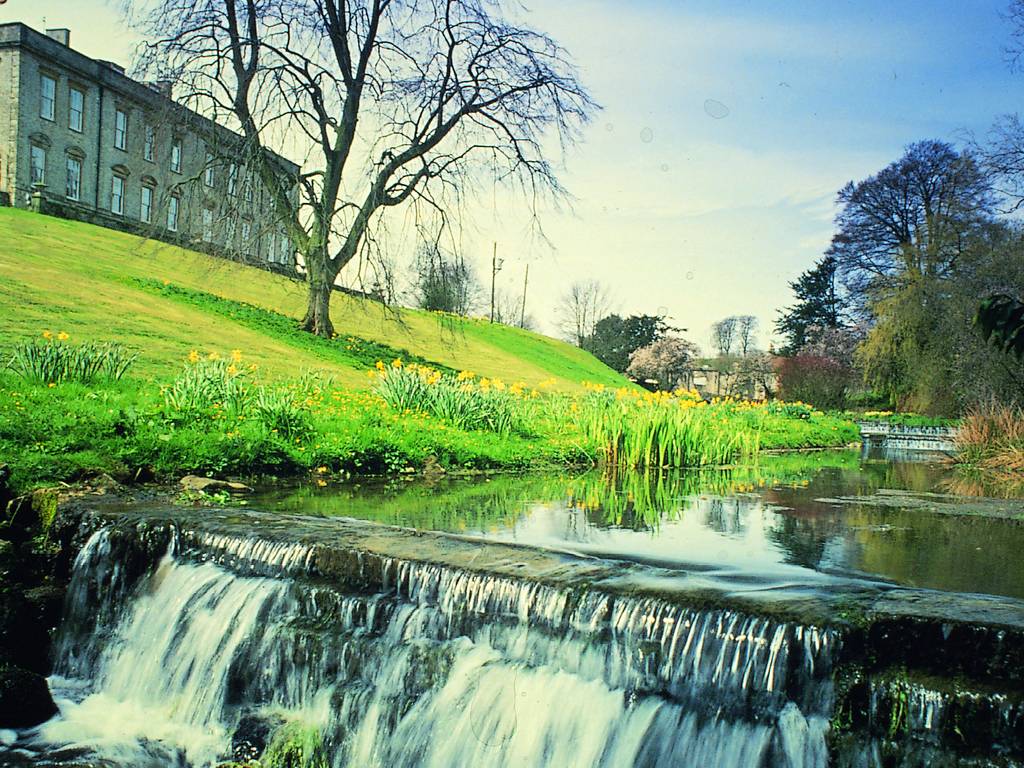 Nr Bath, Somerset, BA3 4DF
See below
We enjoyed our stay and the food and service was very good. We had a blip with the expected room upgrade but it was all resolved satisfactorily.
With further improvements could be very good.
We were a bit disappointed. We had decided to stay here as a bit of a treat and were left feeling rather underwhelmed. The atmosphere was very relaxed which was great but the food was not as good as we had expected and we were somewhat surprised to be presented with the same limited menu for dinner on our second night as we had on the first! As we didn t want to eat the same thing again, I asked if there was anything else we could choose. The waitress then came back with the lunch menu and said the chef was happy for us to [] courses from this which we did and much preferred this to the a la cartel menu for dinner. We enjoyed the food we chose from this. Staff were helpful .
Outstanding foodie destination, faded glory, highly recommended.
The restaurant is excellent, offering a small menu and everything beautiful presented. The white chocolate apple is a marvel! The hotel itself is country house style and could do with refurbishment, lots of junk shop china on display, a plate in our room was both chipped and cracked for example. However we would definitely go again just for the food. Such a pity that all the diners were also guests and the very charming new F&B manager told us the main seller is afternoon tea (also excellent). The restaurant must be approaching Michelin standard, and I do recommend it highly.
Beautiful building in a lovely settingl
We thoroughly enjoyed our stay in the hotel but the dinner was not to our liking as we prefer plainer and less exotic fare. This, however, is a matter of personal taste and not a criticism of the food which was very artistically presented.
A Sad return ..
I am very sad to write this review - feedback .
We visited Ston Easton a couple of years ago and had always wanted to go back as our last visit was a truly splendid stay in a true Deluxe Country house !!
This time on reflection was not the same - we paid 900 ( deluxe package) for 3 nights with a couple of extra booked .
On arrival , no one knew what package we were on.. the box of chocolates I had ordered were not in the room . We were given a very weird substitute on a plate ...
Dinner in the restaurant was minuscule portions and poorly presented until the 3rd night when the proper chef was back on duty after being off duty after the wedding at the weekend ..
The breakfast was shambolic, the Two waiters couldn t even remember toast and kept complaining to the customers about being short handed . Breakfast was not plated up to look appetising .
Our room was never cleaned properly throughout our stay , on the 3rd day we had to make our own bed ..
There were 2 very good women evening managers who were receptive and very hard working, it is a shame they were not matched by their peers !!!
Very sad indeed , a fantastic place is falling into sad neglect from its owners . I would be happy to turn it round .. The devil is in the detail and clear direction for all !!
Beautiful hotel in amazing grounds
Really loved this hotel, the atmosphere is relaxing with very cheerful and helpful staff. The grounds are amazing with meadows and kitchen gardens for walking and a river runs through the grounds at the back. Loved the kitchen gardens and glass houses and old stables where swifts were nesting and flying in an out and a little pets cemetery. The old dog greets you on arrival and wanders around the place with his toy which is quite sweet. Our only comment is about the food which is good quality & quite adventurous but felt the chef tries too hard with lots of little bits and pieces and nothing substantial really. If there are some items you cant eat like my diet it leaves only the meat portion to fill you up on. Although to be fair they did try to offer alternatives if not suited. A traditional dish would have been appreciated as an alternative to fancy bits and blobs of sauces. The venison was very good but a bit more mash, green veg and gravy with it would have been splendid. Only minor comment which did not take away what a lovely hotel and staff this is and great place to stay. We had a luxury room at the front and would have appreciated a lift as I have back problems. The rooms are very spacious and comfortable. We tried to book last Christmas but unfortunately left it too late and thought we would try a summer break and pleased we did although not cheap it was a great break of 3 nights in July.